What is Pigmentation?
Pigmentation is any skin discolouration that is commonly caused by UV ray exposure, hormonal changes, genetics, skin injuries and medications. Pigment cells called melanin are produced by melanocytes in the skin. Genetically, Asians have higher melanin content compared to individuals from other races and are generally more susceptible to pigmentation conditions. Furthermore, in Singapore, having strong year-long sun exposure further increases Singaporeans' susceptibility to sun damage in the form of pigmentation conditions.
What are the different types of pigmentation?
The common types of skin pigmentation are:
Melasma
One of the most common forms of pigmentation, these are large, brown patches that appear on the forehead, cheeks, and upper lip. These patches may become darker after sun exposure. Melasma can be triggered by a combination of factors such as ancestry and genetics, sun exposure, and hormones. 
Freckles
Another very common form of pigmentation, freckles usually occur in brown or beige shades of flat small circles. Freckles often appear as a darker shade than the skin. They are sometimes caused by excessive exposure to sunlight, and especially affects women who have fairer skin. Freckles can also be hereditary.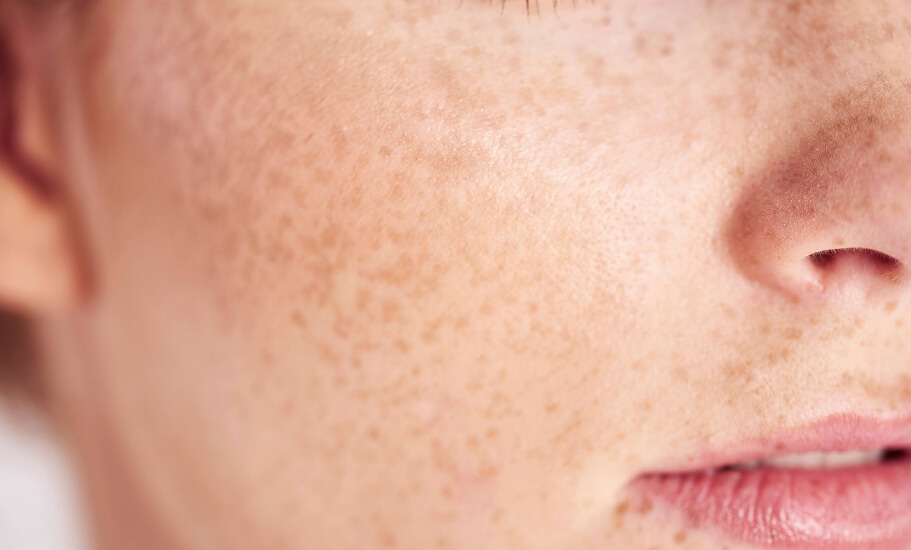 Post Inflammatory Hyperpigmentation (PIH)
Post-inflammatory hyperpigmentation is often seen as dark spots on the face after acne has resolved. Hence, PIH is sometimes mistaken for acne scarring. 
Post-inflammatory hyperpigmentation is generally caused by trauma to the skin such as burns, excessive rubbing, rashes, or irritation to the skin caused by chemicals. Eczema is also known to cause post-inflammatory hyperpigmentation.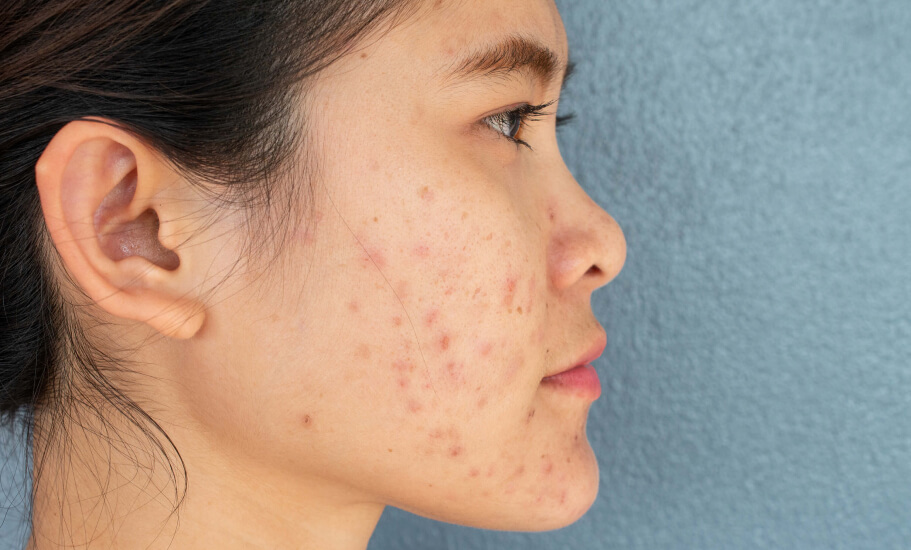 Seborrheic Keratosis 
Distinguished as light brown or black spots on your face, seborrheic keratosis bumps have a rough texture, look waxy, scaly and slightly raised. 
These are typically found in elder women or those who have a family history of Seborrheic Keratosis. 
Solar Lentigo (Age Spots)
A common form of pigmentation in people over the age of 40, solar lentigo happens when UV rays cause melanocytes in the skin to multiply. They not only appear on the face, but all areas of the body that have prolonged exposure to the sun. 
What are the causes of pigmentation?
Skin pigmentation occurs when there is excessive production of melanin, which can be caused by a wide variety of factors, including but not limited to sun damage, genetics, exposure to extreme heat, hormones, and inflammation.
Excessive Sun/UV Light Exposure
This is the number one cause of pigmentation. Excessive exposure to UV rays, whether from sun exposure or other forms, can damage your melanocytes. This may cause an overproduction of melanin, resulting in pigmentation of the skin.
This is further exacerbated in Singapore due to the year-round summer sun we are constantly exposed to. Prolonged sun exposure without proper sun protection significantly increases Singaporeans' susceptibility to sun damage.
Exposure to Pollutants
Chemicals, both acid or alkaline, can irritate the skin. This irritation leads to overactivity of melanin production.
Skin Inflammation/Injury
Skin Inflammation or injuries such as acne lesions or psoriasis are common causes for a pigmentation condition called post-inflammatory hyperpigmentation. This usually occurs as a result of trauma to the skin, stimulating melanocytes to increase melanin production. Examples are: attempting to pop a pimple or excessively scratching your face.
Hormonal Changes
Hormonal changes due to pregnancy is a common trigger for pigmentation conditions like melasma. Oestrogen and progesterone are thought to stimulate the overproduction of melanin when the skin is exposed to the sun.
Medication
Some medications increase your sensitivity to UV rays from sun exposure or other lights, a reaction known as photosensitivity. Common medications that cause photosensitivity are antibiotics like doxycycline, retinoid acne medications and oral contraceptives.
Excessive Heat
Heat is known to cause pigmentation, even when not exposed directly to sunlight. This is further exacerbated in Singapore due to the year-round tropical climate we are constantly exposed to.
Genetics & Ancestry
Individuals with darker skin types may be genetically predisposed to have a higher susceptibility to skin pigmentation. A family history of pigmentation conditions can also increase the chances of skin pigmentation for an individual.