Appointments for Aesthetic and medical services remain open for booking from 22nd July to 18th August 2021 inclusive. Do note that strict safety measures will be enforced throughout this period.
My Skin Journey during the Cancer Treatment
Dr Juliana has more than 10 years of experience in Family Medicine, Aesthetic Medicine and Women's Health. Being a strong advocate of disease prevention and healthy lifestyle, she did belly dancing on a weekly basis, maintained a healthy diet and had no family history of cancer amongst her immediate family. Yet, at the young age of 38 when she was new to motherhood, she was diagnosed with breast cancer.
What caused these changes
The damage to the skin is mainly a result of the side effects of the chemotherapy drugs and the radiation energy. 
Since my diagnosis, I have met some wonderful cancer survivors who consulted me for advice on aesthetic treatment. Some of them developed severe acne along with extreme dryness which can be quite challenging both physically and mentally. However, having been through it myself, I do believe it is important to not rush into any treatment but focus on giving our bodies and skin a chance to recover through sufficient rest, healthy dieting and regular exercise. 
At the end of the day, I feel that keeping positive helps to speed up the healing process. To contribute to this feeling of positivity,  it is my belief to address both the physical and the emotional stage – you feel good, you look good. 
Choosing to go back to work one week after my radiotherapy had ended gave me the regularity I needed in my new life. I feel that spending time listening to my new friends about their unique journeys and skin changes as a result of their treatment helped me too in my emotional recovery from cancer. In  a way they were also my saviours.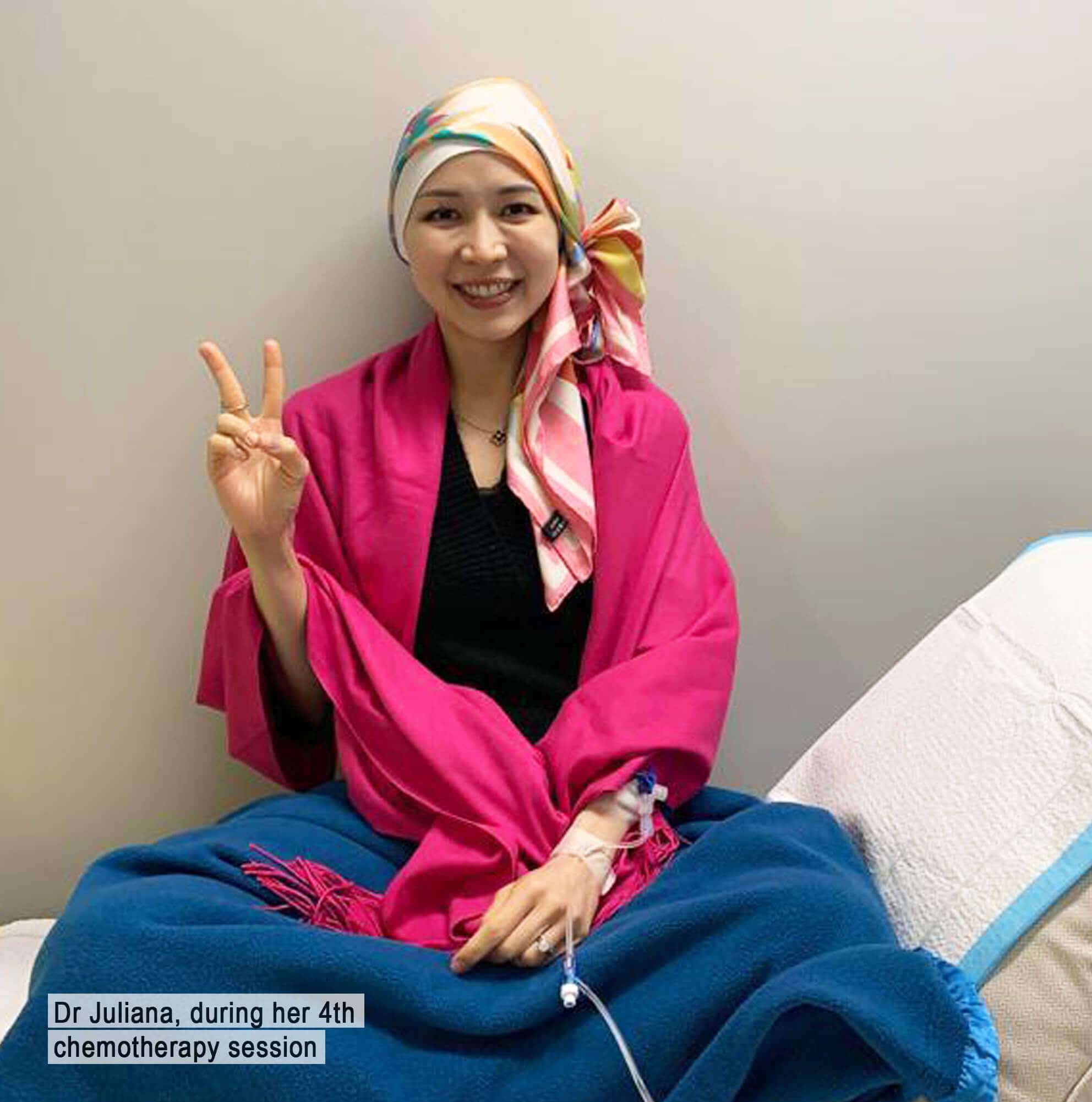 Celebrate Life!
My brush with cancer has taught me to live everyday to the fullest and be a better version of myself. My relationship with my husband has grown from strength to strength and I have learnt to focus on the important things in life. I plan to heal well so that I can move on to family planning which is another challenge for young cancer patients like myself. Although we already feel very blessed with our son, another child would definitely be something amazing for us to look forward to.
It is still early for me as I am fresh off my active treatment with uncertainty ahead. But I know that even years after this ordeal has passed, my dedication to contribute to other cancer survivors like myself will continue to be a part of who I am. Life after treatment has brought me new friends who are fellow cancer survivors and it's an amazing sisterhood that will bind us for life.
My Personal Cancer Treatment
Cancer treatment plans may differ from person to person as it depends on the staging and type of cancer they have. My breast cancer was hormone receptor negative and HER 2 receptor positive for which I was advised to undergo chemotherapy, radiotherapy and Herceptin treatment. While my cancer diagnosis essentially put my baby number 2 plans on the backburner, I was determined to fight my cancer as my priority.
About Fusion Medical
Fusion Medical was set up in the year 2015. Our founders, being passionate about offering one-stop quality healthcare services at affordable rates, decided to set up the first Executive Medical Centre in One-North. This centre is equipped with diagnostic and imaging equipment to provide convenience to our patients. Diagnostic and imaging equipment include X-Ray, Ultrasound, ECG treadmill, Spirometry, Tonometry, Mammogram, Electrocardiogram, Audiometry Tests and Bone Densitometry.
Why Choose Fusion Medical
We Make Things Easy For You
Our clinics are centrally located in Wheelock Place and Fusionopolis, giving you easy access to quality healthcare services whenever you need it. Appointments are easy, too. Request an appointment online or call us.
Female Doctors Who Understand You
Our female doctors offer a broad range of screening and medical services, personalised just for you. Doctor-patient relationships can last a lifetime, and we believe that it is important to have a doctor who truly understands you. We strive to do the best we can to make you feel comfortable.
Fully Equipped Clinics
We are committed to meeting your specific needs at our clinic. Our clinics are fully equipped with diagnostic and imaging equipment to provide one-stop convenience for you.
Dr Juliana Latif

After graduating from Guys', King's and St Thomas' School of Medicine in the United Kingdom, Dr Juliana went on to complete her Graduate Diploma in Family medicine at the National University of Singapore. She is currently pursuing her diploma in Occupational Medicine.

Qualifications

Bachelor of Medicine and Bachelor of Surgery, Kings' College London, UK
Graduate Diploma in Family Medicine, National University of Singapore
Master of Science in Non-surgical Facial Aesthetics, Anglia Ruskin University, UK
Diplomate in Anti-aging and Regenerative Medicine, American Board of Anti-aging & Regenerative medicine
Diploma in Aesthetic Medicine, American Academy of Aesthetic Medicine
Korean Thread Lifting Master Course, American Academy of Aesthetic Medicine
Certificate in competence in Skin Rejuvenation (Fractional Lasers), Chemical peels, Filler injection, Botulinum toxin injection, Laser for treating skin pigmentation and Assisted lasers or intense pulsed light for hair removal awarded by the Aesthetic Dermatology Educational Group, Singapore
Certificate of Vaginal Rejuvenation treatment, The American Academy of Aesthetic Medicine
Certificate of Bioidentical hormonal replacement, Marion Gluck Academy, United Kingdom